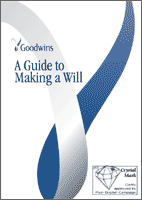 Guide to Making a Will 

This useful booklet explains in detail everything you should know about making your Will and how Goodwins is able to help you plan for your future by giving you professional advice tailored to your specific needs.
Preparing Your Will Form


This questionnaire contains all the information we need in order to prepare your Will. You may wish to download the form, fill it in and fax it back to us. All instructions are included in the form.